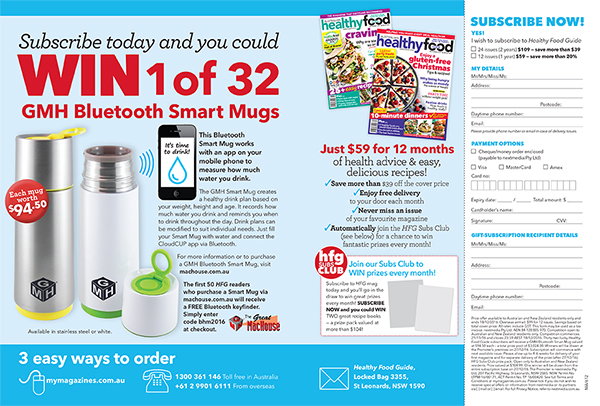 Australian Healthy Food Guide – Smart Mug
December 2016
Subscribe today and you could WIN 1 of 32 GMH Bluetooth Smart Mugs.
This Bluetooth Smart Mug works with an app on your mobile phone to measure how much you drink.
The GMH Smart Mug creates a healthy drink plan based on your weight, height and age. It records how much water you drink and reminds you when to drink throughout the day. Drink plans can be modified to suit individual needs. Just fill your smart Mug with water and connect the CloudCUP app via Bluetooth.
The first 50 HFG readers who purchase a Smart Mug via machouse.com.au will receive a FREE Bluetooth keyfinder. Simply enter the code bhm2016 at checkout.